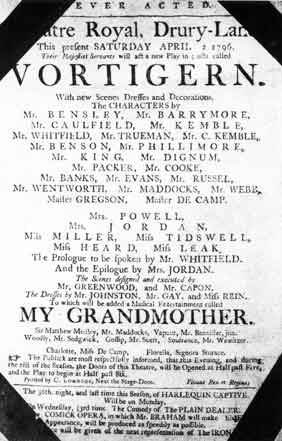 Playbill for the opening of the first (and only) performance of Vortigern at the Drury Lane Theatre. Click to enlarge.
VORTIGERN;
AN HISTORICAL PLAY;
with
AN ORIGINAL PREFACE.
BY
W. H. IRELAND.
REPRESENTED AT THE
THEATRE ROYAL, DRURY LANE,
ON SATURDAY, APRIL 2, 1796,
AS A SUPPOSED NEWLY-DISCOVERED DRAMA OF
SHAKSPEARE.
LONDON:
JOSEPH THOMAS, BIRCHIN LANE.
1832.